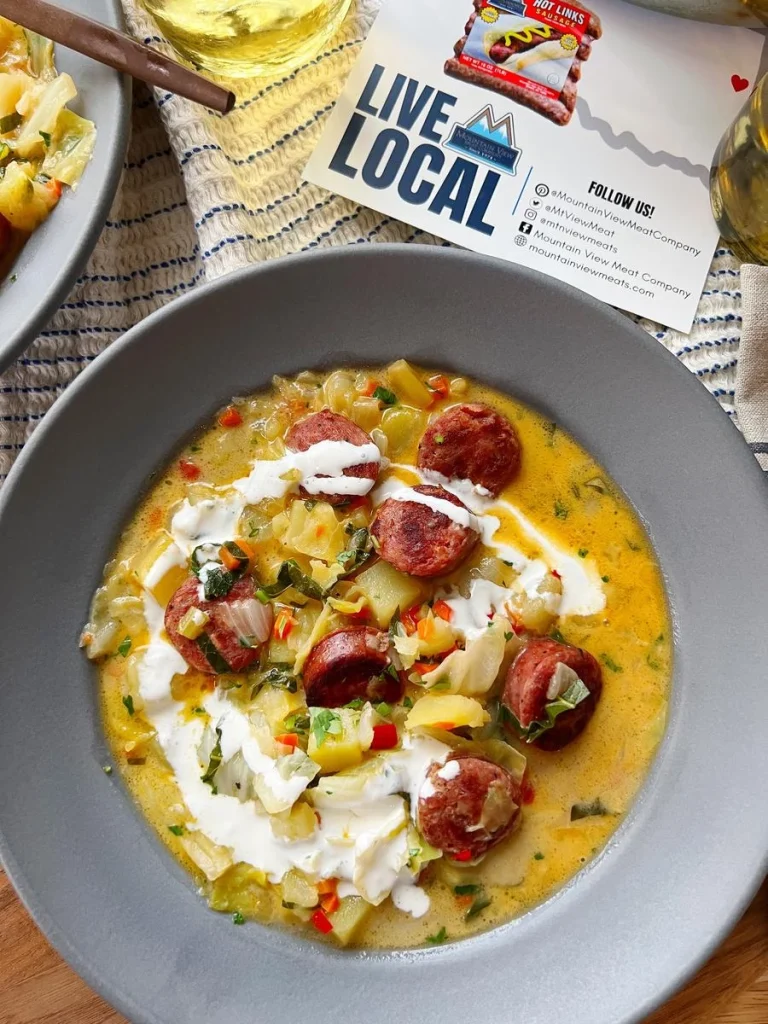 Let's make dinner easy! Mountain View Meats makes dinner a breeze and it's SO GOOD. You can pick up Mountain View Meats sausages at many locations throughout the state of Oklahoma or order from their website to be shipped anywhere in the USA!
Serves 6-8
Recipe and photography by Emily Schuermann, Food for a Year
Ingredients
1 lb Mountain View Meats Polish Sausage links, sliced into 1" pieces
1/2 c carrot, finely diced
1/2 c celery, finely diced
2 bay leaves
2 T butter
1 medium red bell pepper, finely diced
2 c Yukon Gold potatoes, medium diced
2 c chopped cabbage
1 c loosely packed chard or kale, chiffonaded
3 T Italian parsley, finely chopped
32 oz chicken stock
1 c heavy whipping cream
Garnish:

1 T horseradish cream
1/2 c sour cream
S+P to taste
Instructions
In a large 5-6 qt soup pot, sauté carrots, onions, celery, and bay leaves in butter for 5 min. Add bell pepper stirring to heat for 1 additional minute.
Remove the cooked veggies, set aside.
In the same pot, sauté Mountain View Meats Polish sausage until brown.
Remove and add potatoes, cabbage, kale, cream, stock, and cooked veggies to the soup pot.
Cover and simmer until potatoes are tender, stirring occasionally (about 30 min).
Add sausage and parsley, season to taste garnish with horseradish cream* and serve.
*To make horseradish cream, combine horseradish cream and sour cream. Season with s+p to taste.