Mountain View is a family-owned sausage company nestled in the hills of Northeast Oklahoma. The art of making sausages is one of the oldest forms of cooking, and here at Mountain View, our family has been making sausages the old-fashioned way for 50 years and 3 generations. We mix every batch with the perfect blend of spices to create bold, rich flavors which are the signature of our Southern roots. Our sausages are made in our USDA Inspected facility, are fully cooked and ready to eat. Just heat & serve! They are great grilled in your favorite family recipe, or simply wrap in a bun and…  Enjoy
Make a Sausage Links Purchase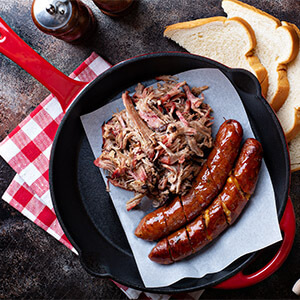 How It Works
Choose your sausage flavors.
Start your order.
Add 12 packs to your cart.
Check out.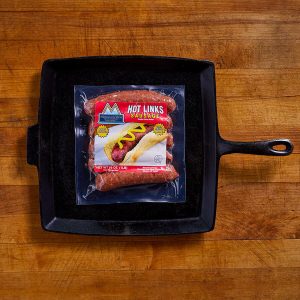 Hot Link
Our most popular sausage and all-around fan favorite! Our Hot Links are perfect on the grill and just what you need to spice up a bun! Packed full of flavor with just the right amount of heat, our Hot Links are sure to keep you coming back for more!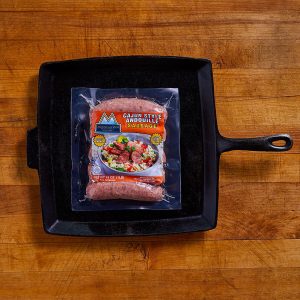 Cajun Style Andouille
Inspired by the flavors of Louisiana, our Cajun Style Andouille Sausage has a bold layer of spices with just a kick of heat! Full of garlic, onion, and spicy cayenne pepper, our Cajun sausage is sure to be the star at your next shrimp boil!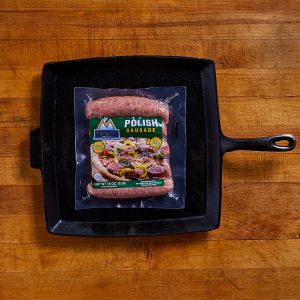 Polish
We put a bold spin on this classic recipe, and we're confident it will become your next favorite flavor! Our Polish Sausage is great on pizza, with your favorite pasta, or as an easy sheet pan supper in a hurry! Our Polish Sausage is fully cooked and can be ready to eat in minutes!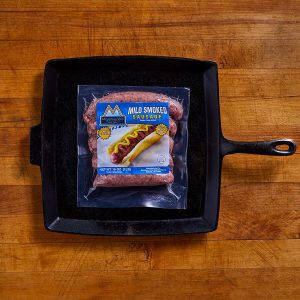 Mild Smoked
The perfect option for those who love the flavor of our Hot Links but not all the heat! Our Mild Sausages are made with the classic blend of beef and pork – no mystery meat or fillers here – along with the perfect blend of natural spices make this sausage a must-try for young and old alike!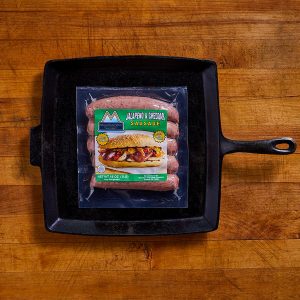 Jalapeno Cheddar Sausage
Made with the dynamic combination of fresh jalapenos and real cheddar cheese, our Jalapeno Cheddar is a match made in sausage heaven! Each bite is BIG on flavor; not on heat. We recommend our Jalapeno Cheddar on the grill with a side of ranch!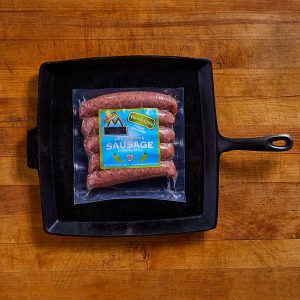 Hatch Chile Sausage
If you are a fan of hatch chiles, these are the links for you. Our Hatch Chile Sausage also includes jalapeno to give you full-bodied seasoning with a bit of heat. Try them on the grill, or add them to your favorite recipes for some extra flavor.
Ghost Pepper Sausage
If you love spicy food, this flavor is just for you! Our Ghost Pepper Sausage has a unique, spicy flavor with a bold hint of heat. Spice up your dinner with our newest smoked sausage that is sure to be a favorite!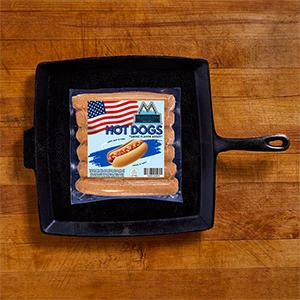 Mountain View Hot Dogs
Our hot dogs are packed with flavor and are sure to be your new addiction for throwing on the grill! Each is made with 100% beef and pork with no fillers or mystery meats, so you can trust the quality and enjoy the taste of our delicious Mountain View Hot Dogs.
Order our fully cooked boneless ham online.