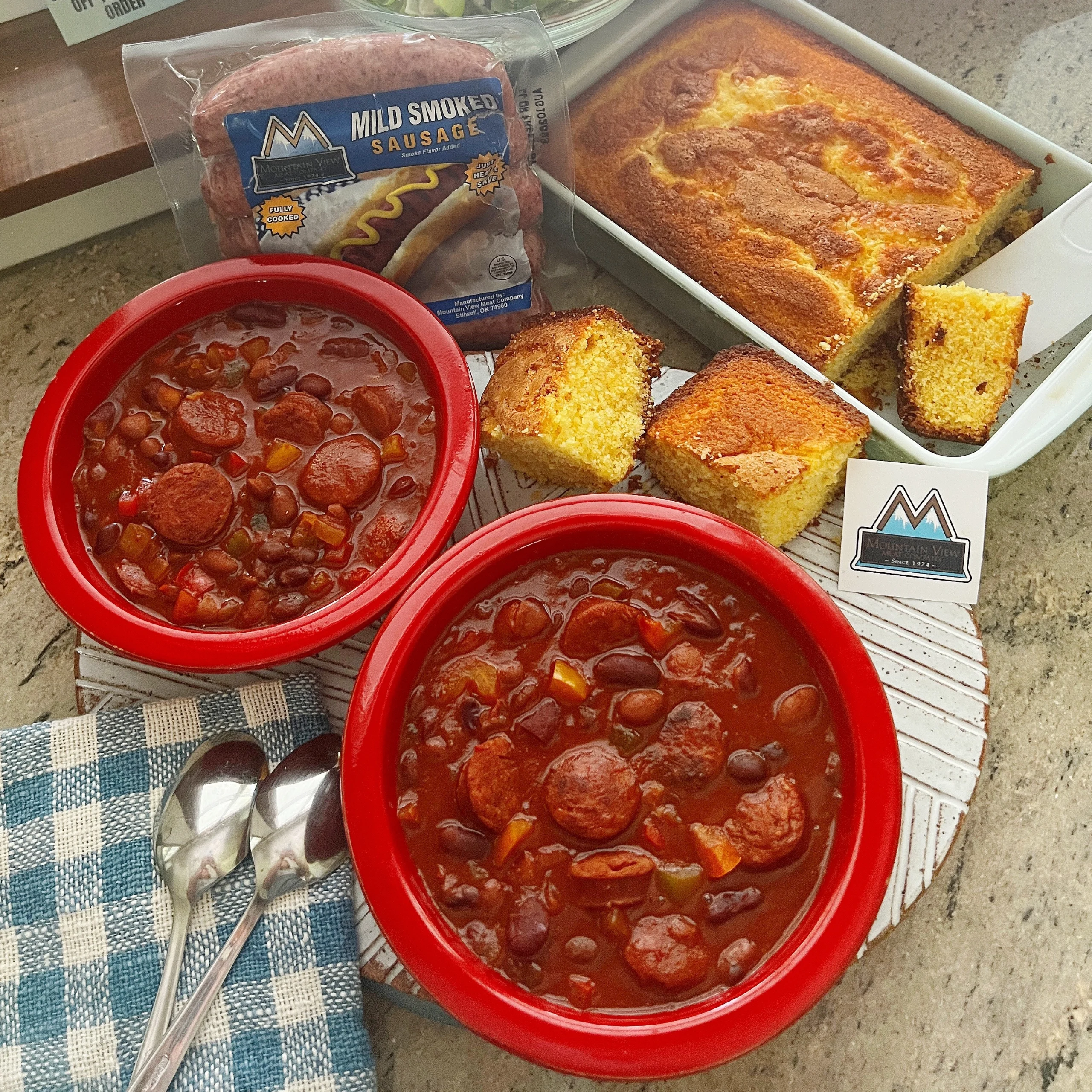 This quick chili recipe is the perfect dinnertime meal for a busy night or a leisurely game-day tailgate. Mountain View Meats Mild Smoked Sausages adds a delicious smoky flavor to this classic, hearty chili. Thanks to Mountain View Meats' delicious sausage and a few secret ingredients, this chili recipe might just win you first place at the chili cook-off!
Recipe and photography by Emily Schuermann, Food for a Year
Serves 6-8
Ingredients
1 pound Mountain View Meats Mild Smoked Sausage, sliced 1"
3 tablespoons butter
1 tablespoon cumin powder
2 teaspoons chili powder, more for a spicier chili
1 tablespoon sweet paprika
2 teaspoons garlic salt
1 teaspoon onion powder
½ medium white onion, finely diced
½ cup each red, orange and green bell peppers, finely diced
1 cup V8 or tomato juice
2 cups canned crushed tomatoes
2 tablespoons tomato paste
1 cup beef broth
2 15-ounce cans chili style beans
1 ounce dark chocolate finely chopped
Directions
In a large (12" x 3") skillet, brown Mountain View Meats Smoked Sausage over medium heat.
Once the sausages are browned, add spices and diced vegetables. Cook, stirring continuously, until the vegetables are tender.
Add remaining ingredients and return to a simmer, stirring occasionally for 12-15 minutes. Taste and add additional seasoning as desired.