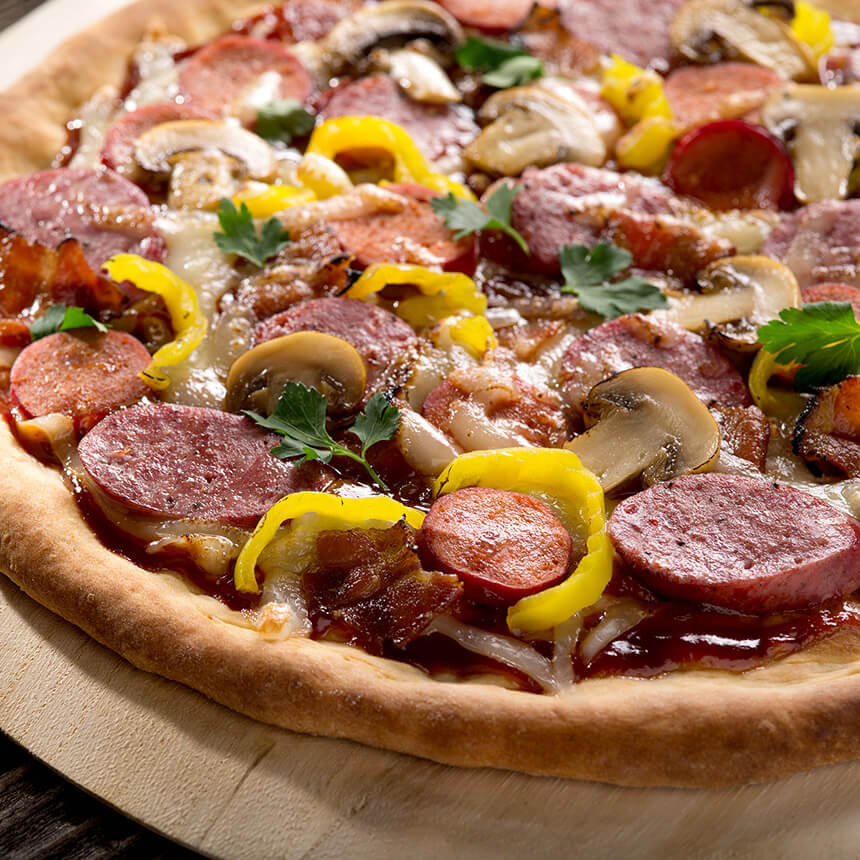 Enjoy the best of BBQ and pizza!
Ingredients
1 package Shawnee Mills Original Pizza Crust Mix
1/2 cup Head Country Original BBQ Sauce
2 teaspoons Head Country All-Purpose Championship Seasoning
2 Mountain View Meat Company Smoked Sausage, sliced thin
2 Mountain View Meat Company Hot Links, sliced thin
4 slices Bar-S bacon, cooked and crumbled
1 cup J-M Sliced Mushrooms
1/4 cup Jarred sliced banana peppers
1/2 cup Scissortail Farms Cilantro, chopped
1 cup Shredded Mozzarella cheese
Directions
Follow package directions to make pizza crust. While the dough is resting, heat outdoor charcoal or gas grill to medium-high heat. Place a pizza stone on the grill to preheat while the grill is preheating.
Heavily flour a wooden cutting board and roll out pizza dough, forming a 12-to-14 inch circle. Spread barbecue sauce and sprinkle seasoning onto dough. Top with sausage, bacon, mushrooms, peppers, cilantro, and cheese.
Carefully slide the pizza off the board and onto a pizza stone. Close the grill lid, and cook for about 8 to 10 minutes, or until the crust is golden brown.