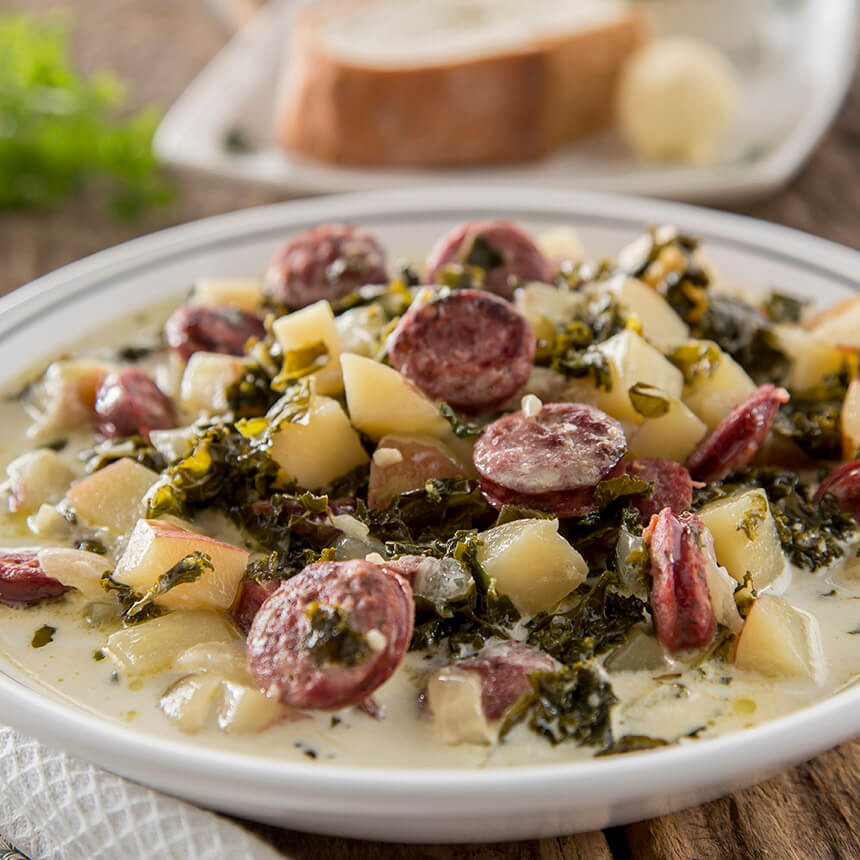 Everyone is sure to love this delicious soup.
Ingredients
1 tablespoon Hiland Butter
2 tablespoons olive oil
1 yellow onion, diced
3 garlic cloves, finely diced
1 package Mountain View Meat Company Smoked Sausage, sliced into 1/4-inch rounds
4 cups kale leaves, torn
1 sprig Scissortail Farms Rosemary
1/2 teaspoon dried thyme
3 cups cubed potatoes
32-ounce low-sodium chicken broth
1 teaspoon Daddy Hinkles Onion and Garlic Seasoning
1 cup Hiland Heavy Cream
Salt and pepper to taste
Directions
Melt butter and heat olive oil in a large soup pot over medium-high heat.
Add diced onions, garlic, sliced smoked sausage rounds, kale, salt, pepper, rosemary, and thyme; stir to combine and cook for 8 minutes, stirring occasionally.
Stir in potatoes, add chicken broth bring to a boil.
Reduce to a simmer and continue to cook for 12 to 15 minutes, or until potatoes are fully cooked and tender.
Add the cream, stirring gently, then remove from heat.
Taste for seasonings and remove rosemary sprig. Ladle soup into bowls and serve.