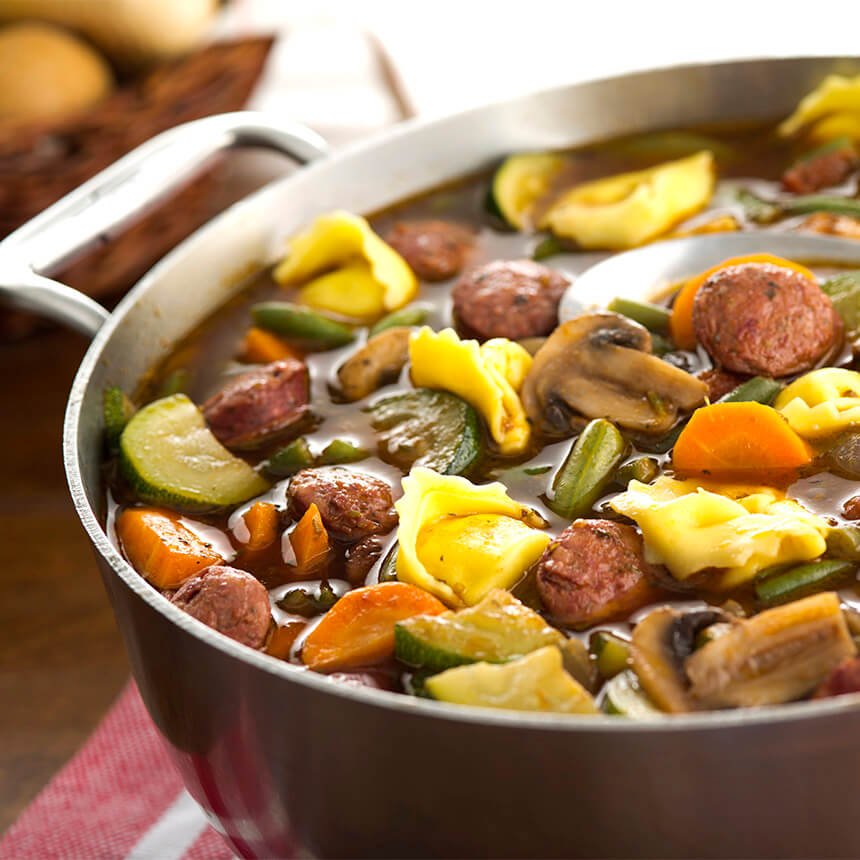 A simple and delicious cold weather meal!
Ingredients
1 lb Mountain View Meat Company Smoked Sausage
1 medium onion, diced
1 (32 Oz) carton beef broth
1 (8 Oz) can tomato sauce
1 cup dry red Oklahoma-made wine
1 teaspoon Daddy Hinkles Original Instant Meat Marinade
1 teaspoon dried Italian seasoning
2 (14.5 Oz) cans Italian-style tomatoes
1 (16 Oz) bag frozen cut green beans
1 (8 Oz) package J-M Farms Sliced Fresh Mushrooms
3 carrots, sliced
3 medium zucchini, halved and sliced
1 (20 Oz) package refrigerated cheese-filled tortellini
Directions
Slice sausage into rounds. In a Dutch oven or soup pot, sauté sausage with onion, cooking on medium heat for about 10 minutes.
Add beef broth, tomato sauce, wine, Daddy Hinkles seasoning, Italian seasoning, tomatoes, green beans, mushrooms, carrots, and zucchini. Add 5 to 6 cups of water, depending on how much broth you want for your soup.
Bring to a boil. Cover, then reduce heat to low, and simmer for 20 to 30 minutes until carrots are tender.
In a large saucepan, cook tortellini according to package directions. Set aside.
When the soup is done, ladle soup into bowls, then add tortellini to each bowl. Top with Parmesan cheese.