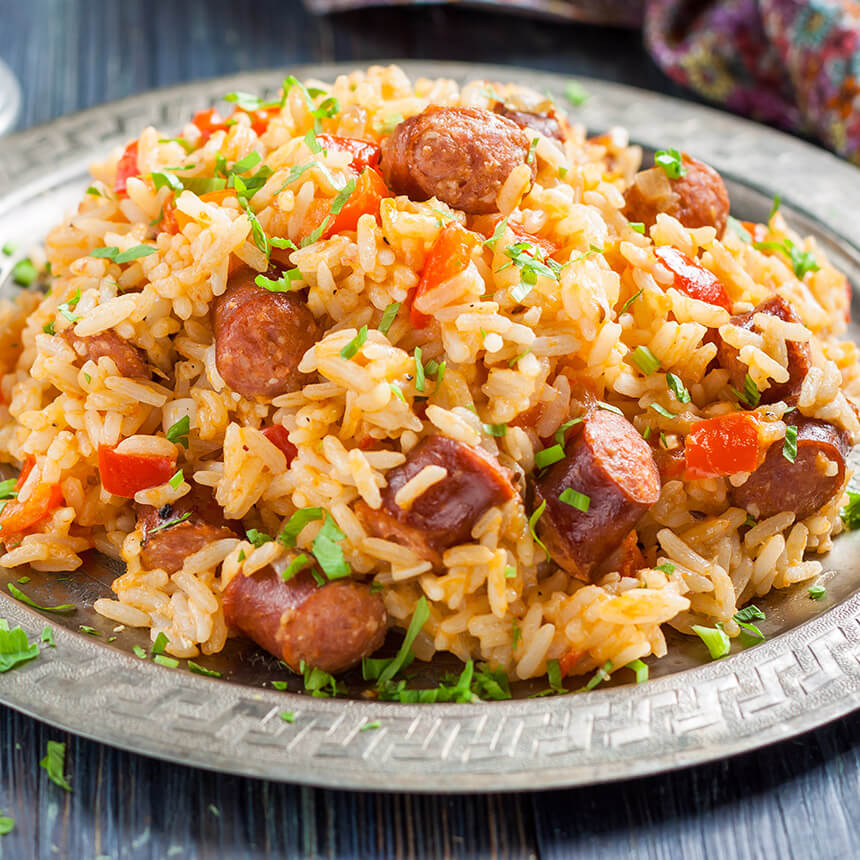 Exercise? I thought you said extra rice. This Cajun sausage and rice skillet might not be allowed on your new year's resolution diet but it sure is YUM!
Ingredients
14 oz. cajun Mountain View Andouille sausage
1 tsp smoked paprika
1 Diced red pepper
1/2 onion diced
1/2 tsp dried oregano
1/2 tsp dried thyme
1/4 tsp garlic powder
1/4 tsp onion powder
1/8 tsp cayenne pepper
1/8 tsp freshly cracked black pepper
1 can tomato paste
1 cup long-grain white rice
3/4 cup cups chicken broth
Parsley chopped (optional)
Directions
Add oil to a large cast iron skillet over medium-high. After the oil simmers, add the Mountain View Cajun sausage and cook until browned on both sides, about 5 minutes. Remove from the pan and set aside.
Add diced red peppers and onion, sauté for 4-5 minutes.
Add all seasonings (except cayenne and paprika) and cook for about 1 minute. Remove from the pan and set aside with the sausage.
Add 1 small can tomato paste and about ¾ cup of chicken broth, whisk to combine. Allow the mixture to simmer for 1 minute, then add the paprika and cayenne for a nice spicy kick. (It's not Cajun if it doesn't have a little spice!)
Stir in the cooked rice, sausage, remaining chicken broth, pepper and onions until combined. Garnish with chopped parsley if you want to feel fancy.