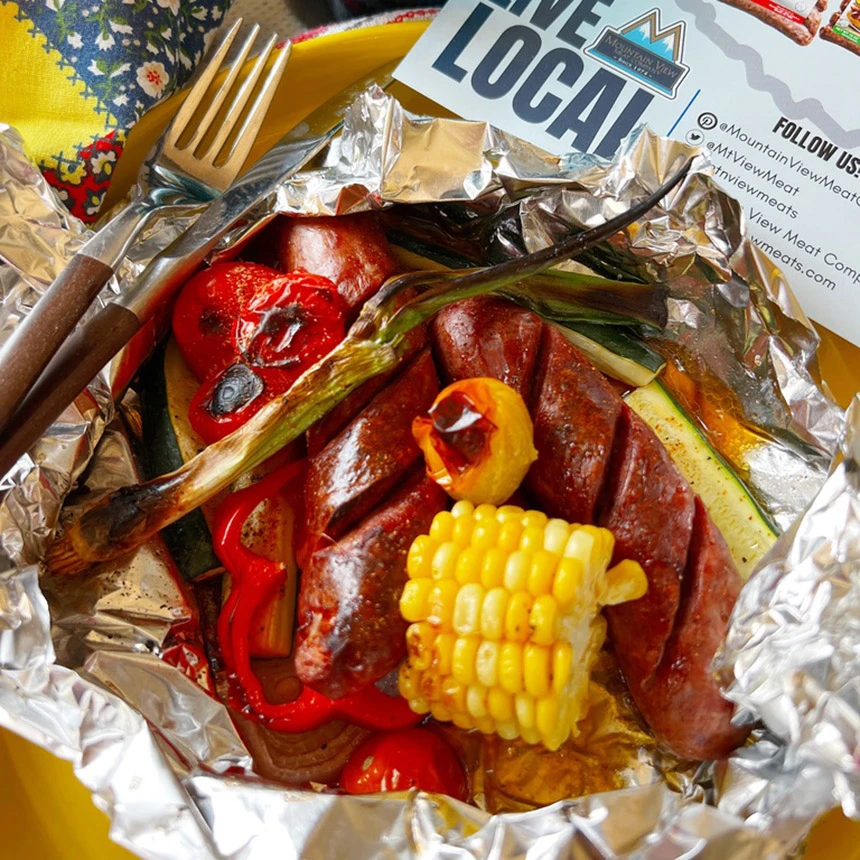 This beautiful, warm Spring weather is just BEGGING for outdoor cooking and these Mountain View Meats Foil Pack Meals are perfect. Simply assemble your favorite Mountain View Meats Sausages and fresh vegetables, wrap in foil packs and nestle into the hot coals of your fire pit.
Recipe and photography by Emily Schuermann, Food for a Year
Serves 5-7
Ingredients
2 lb Mountain View Meats Cajun Sausages, scored
4 sweet corn cobs, cut into 2" cobbettes*
1 large red onion, sliced
2 red bell pepper, sliced
4 medium zucchini, cut into 16, 4″ spears
10 green onion, washed and trimmed
1 c cherry tomatoes
½ c butter
2 t cajun seasoning
5 to 7, 18" long sheets of heavy duty or grilling foil
Instructions
Prepare a fire pit or charcoal grill for cooking foil packet meals.
Melt butter and cajun seasoning together and keep warm.
While the fire pit or grill is heating, assemble the foil pack meals as follows. In the middle of one sheet of foil:
Drizzle with 1-2 T of melted seasoned butter
2 slices of red onion
1-2 scored Mountain View Meats Cajun Sausages
Corn, zucchini and tomatoes
Corn cobbettes
Drizzle with 1-2 T of melted seasoned butter
Wrap foil packets tightly, sealing to close all of the edges.
Place the foil packets on the hot coals of the prepared fire pit or grill for 30 minutes (depending on the heat of the fire and the amount of vegetables). Rotate packets for even cooking.
Open one packet midway through cooking to check progress. Re-seal and return to the heat.
Once sausages are heated through and vegetables are tender, remove from the heat and serve.
*For fresh or frozen corn, boil for 3-5 minutes before adding to each foil packet.