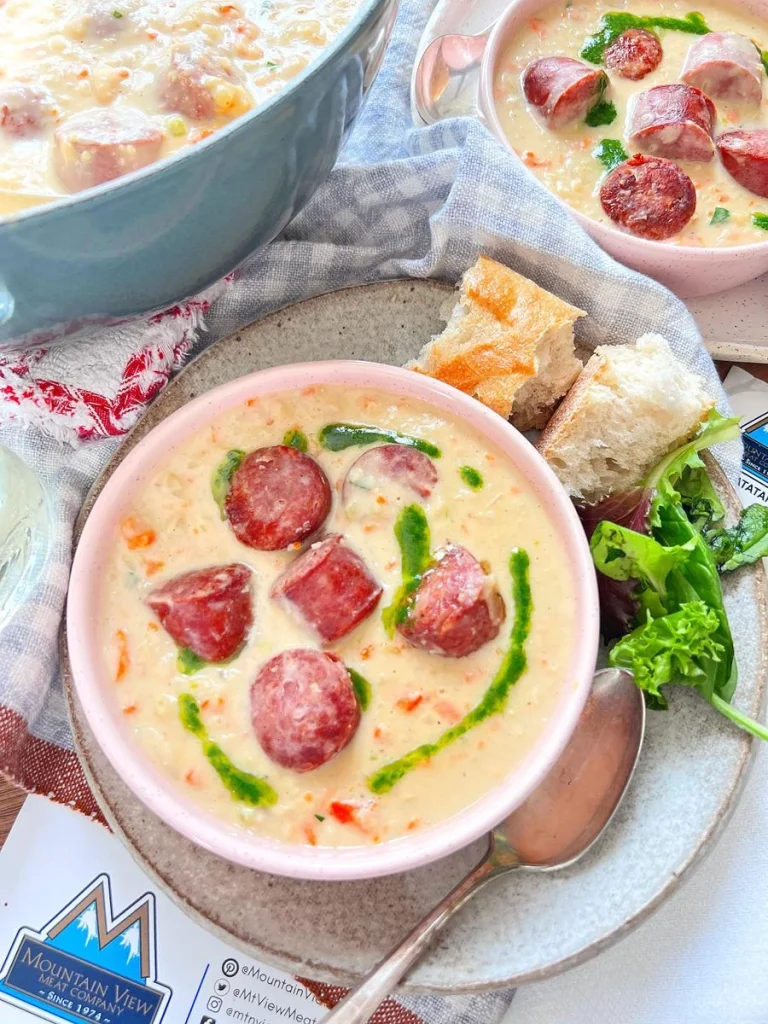 Come make dinner with me! You know, smoked sausage has ALWAYS been a mealtime "go to" for me. It's delicious- easy to use -and the entire family LOVES smoked sausage! This Hearty 30-minute Smoked Sausage and White Bean Soup is a breeze to make and so satisfying.
Recipe and photography by Emily Schuermann, Food for a Year
Serves 6
Ingredients
1 pkg Mountain View Meats Mild Smoked Sausage
2 T butter
1 c ea
•  diced carrots
•  diced onion
•  diced celery
1-2 bay leaves
1-2 c chicken broth (depending on desired thickness)
2 c heavy whipping cream
1 T cornstarch
1 T Dijon mustard
2 t Italian parsley, finely chopped
S+p to taste
Herb oil for garnish
Instructions
Brown sausage in butter. Remove and sauté veggies in the same pot (5 min). Add broth, beans and cream.
Purée half of the bean mixture in a food processor. Return bean mixture and browned sausage back to the soup pot.
Remove 1/2 c soup liquid adding to a small bowl with the cornstarch. Whisk to create a slurry and add back to the soup. Simmer to thicken.
Season to taste and sprinkle with Italian parsley. Add a drizzle of herb oil and serve!