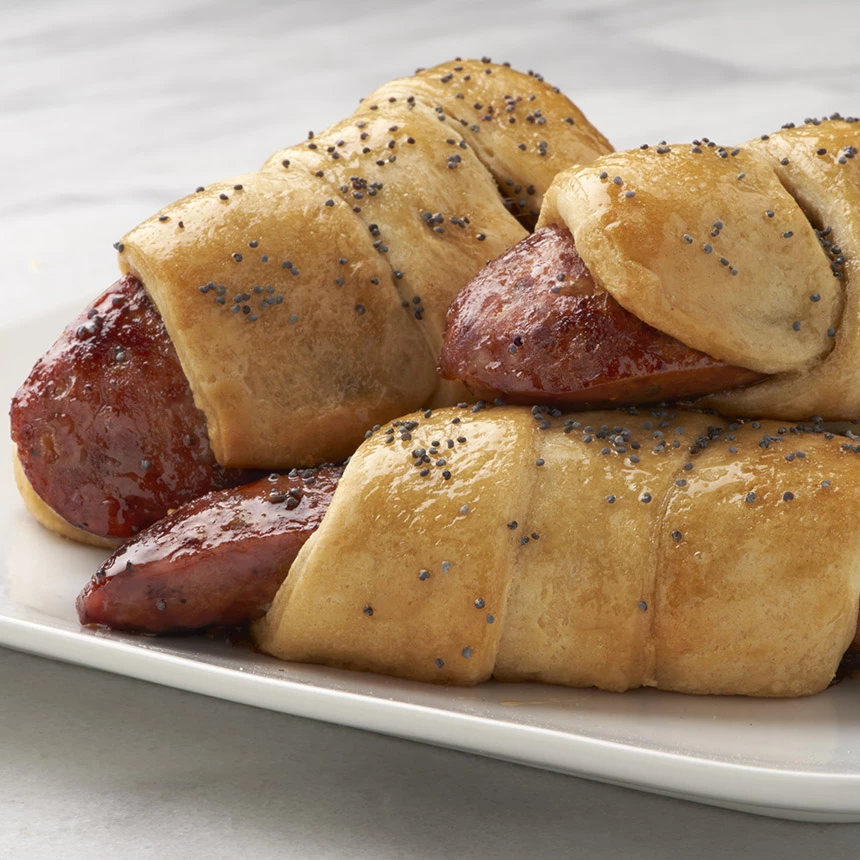 Give good old-fashioned pigs in a blanket a breakfast twist by rolling Mountain View Meat Company Mild Sausage Links in Griffin's Syrup. The maple flavor makes it just right for breakfast or brunch.
Recipe and Photography by Made in Oklahoma Coalition
Ingredients
1 package Mountain View Meat Company Mild Sausage Links
1/4 cup Griffin's Pancake Syrup plus ¼ cup for glazing
1 (8 ounce) can crescent rolls
1 tablespoon Hiland butter
1 tablespoon poppy seeds
Directions
Step 1
Preheat oven to 350 degrees. Slice sausages in half lengthwise. Cook in a saute pan until browned and slightly crisp on the edges. Add syrup to pan, and stir to coat the sausage in the syrup. Remove sausages to a plate to cool.
Step 2
Unroll crescent rolls, separating into individual rolls. Cut each in half lengthwise to make two triangles. Roll each piece of sausage in the crescent roll. Brush with butter and sprinkle with poppy seeds.
Step 3
Bake at 350 degrees for 9 minutes. Once rolls are out of the oven, brush with additional syrup for a maple-flavored finish. Return to oven and bake an additional 3-5 minutes or until golden brown.