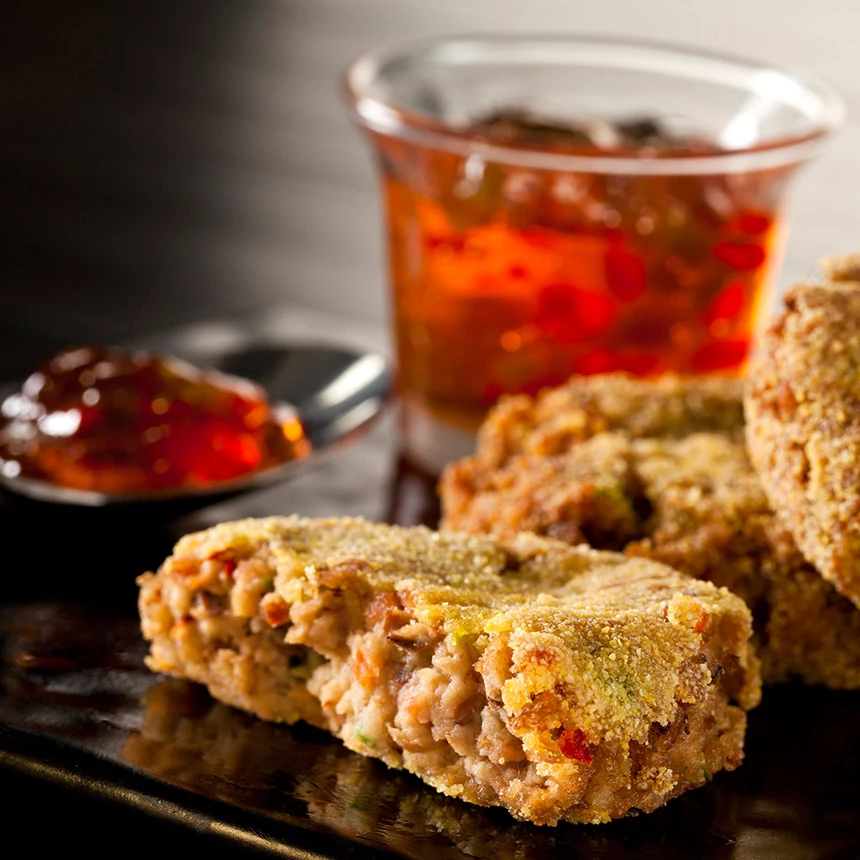 This unique and tasty appetizer is sure to add some good fortune to your New Years!
Recipe and Photography by Made in Oklahoma Coalition
Ingredients
1 (15.5) ounce cans black eyed peas
1 cup chopped Mountain View Meat Company Smoked sausage
1 cup roasted red bell peppers
1 jalapeno pepper seeded and chopped
1 teaspoon ground cumin
1 Hansen's brand egg, beaten
1 (1 1/2 cups Shawnee Mills All Purpose Flour
1 cup Shawnee Yellow CornMeal
Suan's Scotch Bonnet Pepper Jelly
Instructions
In a large bowl, mash black eyed peas with a potato masher or the back of a large spoon.
Add sausage, red peppers, jalapeno, cumin and egg. Mix until combined.
Add flour, incorporating until firm enough to shape into cakes.
Let sit in the refrigerator for about 1 hour to firm.
Shape into round patties.
Pat each cake into cornmeal, to give a light coating.
Heat oil in a heavy skillet over medium-high heat.
Fry the patties until crispy and brown on both sides.
Serve with Suan's Scotch Bonnet Pepper Jelly.