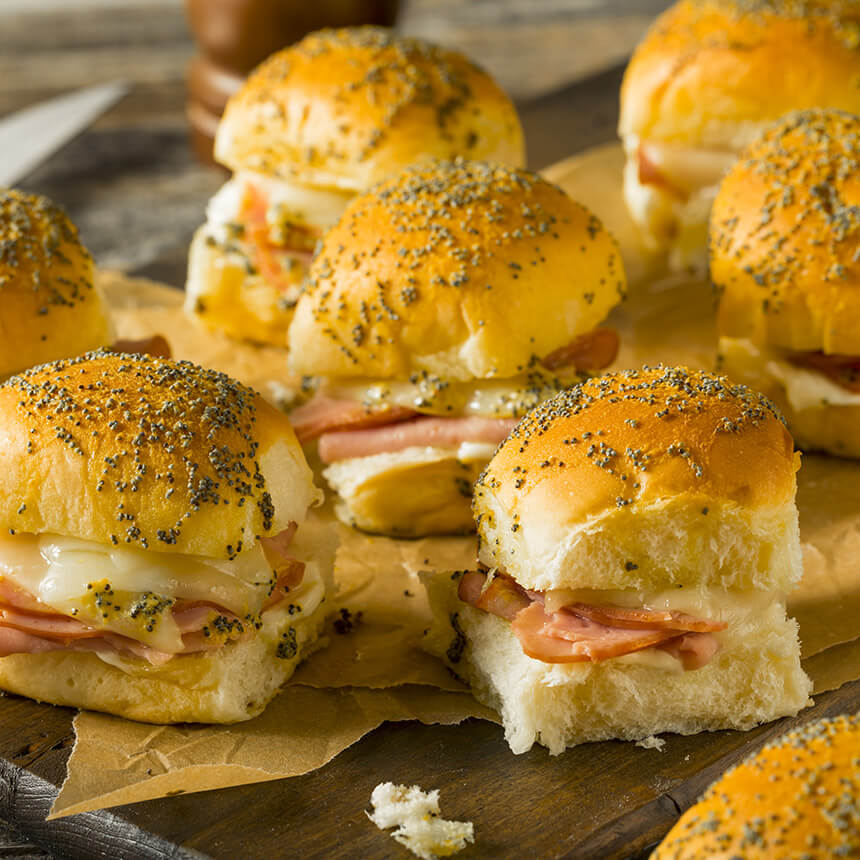 These simple sandwiches are easy to prepare and delicious to eat!
Ingredients
1 12-count package Hawaiian Sweet Rolls (sliced in half, see directions for more details)
¾ pound Mountain View Meat Company Ham (cooked, thinly sliced)
¾ pound Swiss Cheese (thinly sliced)
½ cup Unsalted Butter (melted)
1 tablespoon Dijon Mustard
1 tablespoon Poppy Seeds
2 teaspoons Onion (dried minced)
2 teaspoons Worcestershire Sauce
¼ teaspoon Salt (or to taste)
¼ teaspoon Pepper (or to taste)
Directions
Using a large serrated knife, slice the rolls in half so you have a 'slab' of tops and a 'slab' of bottoms.
Layer the Mountain View Meat Co. ham and cheese onto the bottom 'slab' of rolls, then place the top 'slab' back on.
Whisk together the melted butter, mustard, poppy seeds, onion, Worcestershire sauce, salt, and pepper. Brush over the top rolls.
Before baking, you MUST let the sliders sit for 5 to 10 minutes at room temperature. This gives the butter mixture time to soak into the bread and flavor it.
Then, bake the sliders in the preheated oven until the cheese is melted and serve!