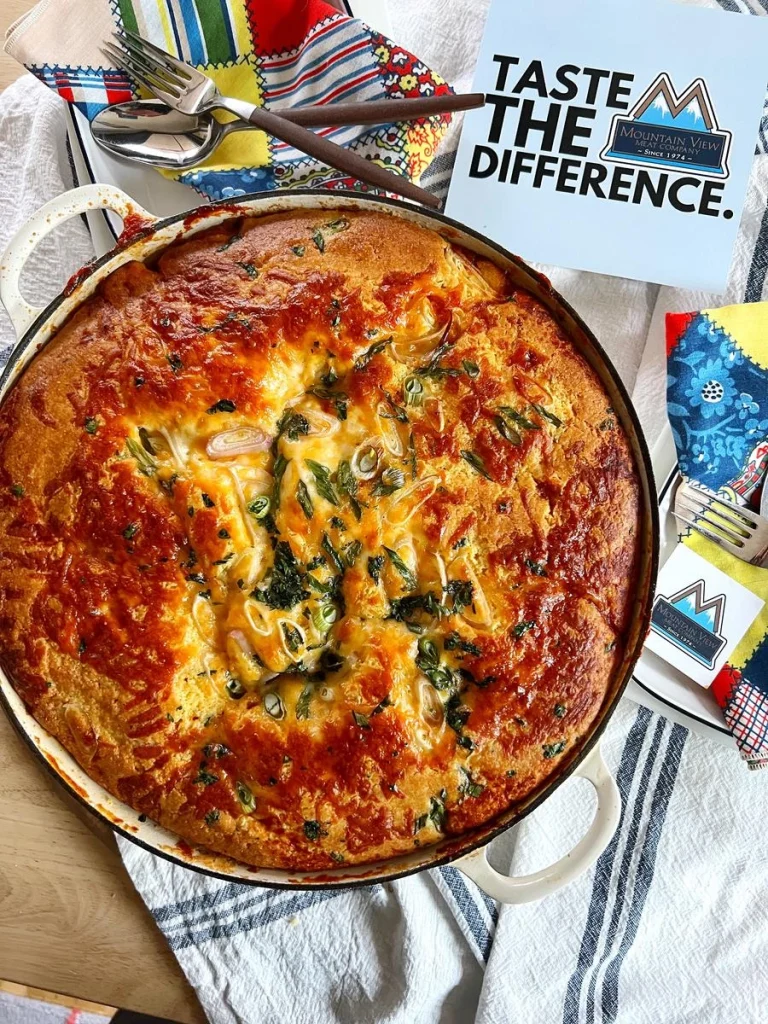 It's time to remind yourself of just how easy dinnertime can be! This one-pan recipe makes use of one of the most glorious quick-dinner ingredients on the planet — precooked Mountain View Meats smoked sausage links — and combines it into a satisfying comfort food meal with just a few pantry staples. In a matter of minutes it's in the oven, baking away and dinner is on-the-table in under an hour.
Cheesy, meaty and hearty – this meal will have you at hello!
Find out how to pick-up your Mountain View Meats sausages by going to www.mountainviewmeats.com
Recipe and photography by Emily Schuermann, Food for a Year
Serves 6-8
Ingredients
1 lb Mountain View Meats Mild Smoked Sausage Links, sliced into 1" chunks
⅔ c ea diced celery, onion and bell pepper
4 T tomato paste
2 15 oz can ranch-style beans, undrained
⅔ c BBQ sauce
1 ½ c cornbread mix
2 eggs
6 T butter, melted
¾ c milk
Garnishes

2 c grated Colby jack cheese
1 small shallot, sliced
2 T green onions, sliced
2 T cilantro, chopped
Instructions
Preheat oven to 375°. In a large, 10" x 3" skillet sauté sausage 2-3 minutes (to heat through).
Add diced vegetables and tomato paste to the sausage and continue sautéing 2-3 additional minutes.
Pour beans and BBQ sauce over the heated sausage and vegetables, bringing everything to a simmer.
Meanwhile, in a medium mixing bowl, whisk to combine cornbread mix, eggs, butter and milk.
Once the sausage and bean mixture is simmering, spoon the cornbread batter over the top. Top with the garnishes of cheese, shallot rings, green onions and cilantro.
Bake for 30-40 minutes or until the cornbread topping center is set.